Next to the kitchen, the living room is the most well-loved and well-used part of the home – at least for most of us. It is the space where friends and family gather for coffee and conversation; it's where we congregate to watch our favourite television shows and movies on Netflix; it's where we snack, lounge, nap, read, 'surf the net,' and groom (at least for our cat Napoleon ;)). The living room is a multi-purpose, multi-use room that for all its uses, can either feel warm and inviting or cold and sterile.
At the time of our move-in to our home in 2010, I knew that the living room was the first space I wanted to fix up. And yet I knew I had my work cut out for me. We had very old, worn apartment furniture – a metal framed futon, chipped coffee table and side tables, and a hand-me-down papason chair – not quite the grown up furniture that I expected to have in my thirties and certainly not what I was going to use in my brand new living room space! So, when given the opportunity to start from scratch – and I do mean scratch – I was determined to create a warm and cozy space out of mainly inexpensive furniture pieces that included 2 Ikea Ektorp couches (one that was given to us for free) and an oversized coffee table (on sale) to start. The rest, we accumulated over the course of the first few years. Keeping in mind our extremely lean budget, as well as my husband's one request – that he be able to kick up his feet and feel relaxed – I was determined to make choices that combined both my desire to 'prettify' the space and my wish to make it a warm and relaxing space for everyone.
Whether you are moving into a new home or apartment or simply want to cozy up your current space, consider these 10 tips for creating a cozy living room.
#1 More pillows, please?!:
Now, I know for most men (and maybe some women out there), pillows are the scourge of living rooms (and bedrooms) everywhere! Too many and they become more of a nuisance than a help. But, truthfully, just a few pillows will add both style AND  function to a space. They can be used to add pops of colour to an otherwise neutral palette as well as offer comfort for your back or head when taking that cat nap – no pun intended toward our sweet cat, Napoleon! – after a long day at work. The trick is to create balance and not to overdo it. For me, that balance is no more than 3-4 pillows per couch, but only you know what works in your space and your guests. Some of you simply feel that the more pillows the better. And, if so, go for it! It's your space to love:)
                                                                                 Source: Linen and Lark
Source: I Heart Organizing
#2 Cozy, comfy throws:
Throws instantly add a feeling of comfort and warmth, especially on a chilly night or when you simply wish to snuggle 🙂 But don't stop at just one! Use a variety of soft and textured throws of various styles and weights, placing them in a couple of different areas around the living room – draped over a chair, draped over the arm of your couch, in a basket or on a ladder – for easy access.
#3 Add texture with a basket(s):
Baskets are a great way to add natural and textured elements that feel both relaxing and comfortable in any space. Whether you have a relaxed 'beachy' vibe, country, modern or eclectic space, having a basket or two to store your throws, pillows, magazines or to use as planter covers will will make your room feel cozy-comfy.
 Source: A Beach Cottage
Source: Rain on a Tin Roof
#4 Bring the outdoors in:
There is nothing more comforting than bringing the outdoors into our homes. Flowers, branches, pussy willows, seashells, river stones, sand, and outdoor elements of all kinds (whether real, dried or faux) bring both a sense of vitality and soothing comfort to our souls.
 Outdoor elements include the flowers, branches, and woven basket. Cat not included!
Source: Love on Sunday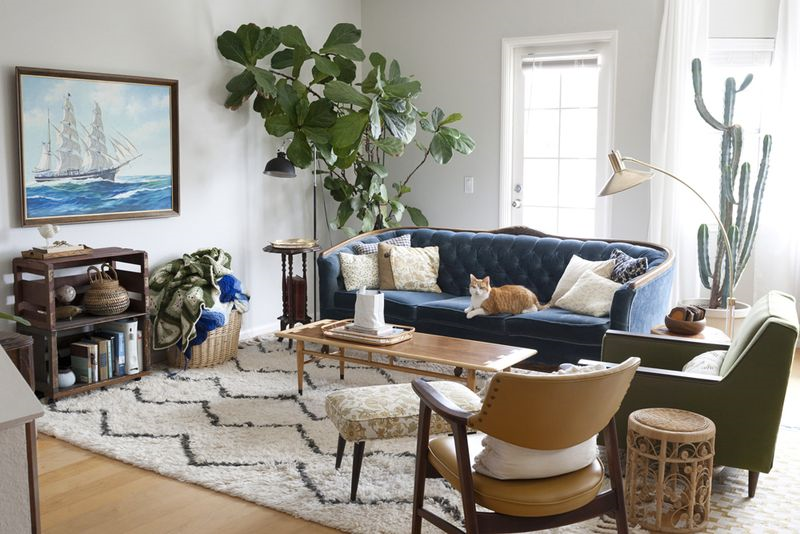 Article, 'At home with Jennifer Bewerse.' Source: A Beautiful Mess
#5 Candles – need I say more?:
Source: Cuckoo 4 Design
#6 Books & Magazines:
Having books and/or magazines available to leaf through (even read ;)) are another option for when you are creating a relaxed atmosphere. Having a variety – photo books or magazines and even text-heavy reads – exude a relaxed atmosphere because they invite people to kick up their feet and lounge. Arranging your books and magazines in various ways will also add visual interest to the room. For books, you can stack them on your coffee table or side table (three or more is ideal) either 'loose' or tied together with twine (if they are more decorative, for example) or you can create a fan deck for a more relaxed look. Having a basket or magazine rack to hold books or magazines is a great way to combine baskets and books for an extra cozy touch. You can also choose them for their colours if you are looking for inexpensive ways to add pops of colour to your space.
Source: Love on Sunday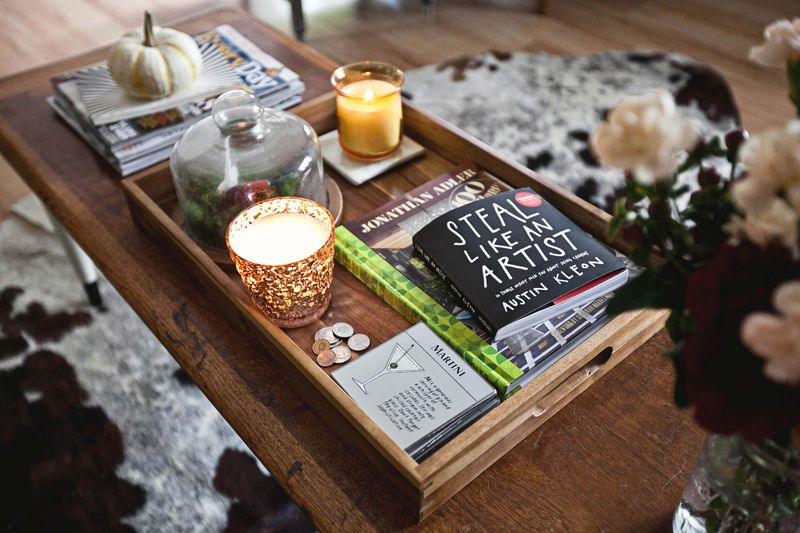 Source: A Beautiful Mess
Source: Katie Armour of The Neo-Trad
#7 Quirky Odds and Ends:
One of my favourite things to see in homes are objects that are a little quirky and 'off-the-wall.' They are unabashedly decorative with no purpose whatsoever, except that they add visual interest and personality to the space. There are loads of knick knacks to choose from at any local home goods store (Home Sense, Bouclair and Walmart are among my favourites along with vintage items at Value Village – Winners, too, has a great home section that people often overlook). It's the quirky little pieces, like giant jacks, stars, anchors, animal figurines, agate slices, mineral/rock bookends, hand sculptures, miniature minuettes, and other artful objects that generate conversation! Only beware: too many knick-knacks and the space may feel like a jungle rather than a retreat! Some tasteful methods of displaying those quirky finds include trays, shallow baskets, grouped in a single collection or even a few select surfaces as long as there is a visual reprieve in between so that your eyes have an opportunity to rest!
Interesting objects corralled in a coffee table tray. Source: Rain on a Tin Roof
A rock mantel display. Source: Dans le Lakehouse
TV stand with shed antlers & other 'cozy' elements. Source: Just a Girl and Her Blog
#8 Wall Art:
With your walls taking up a lot of visual real estate, it's always a good idea to think of adding warm touches there as well. It might be through the use of colour, art, prints, family photos, 'soft' art pieces like a DIY yarn wall hanging or macramé. Try to be creative and varying in your choices. (If you are worried about cohesion in the space, repeating the same colour palette throughout – 3-5 colours, for example – will provide the harmony you wish to create).
DIY dried flower art – an inexpensive way to create a serene space. Source: I Spy DIY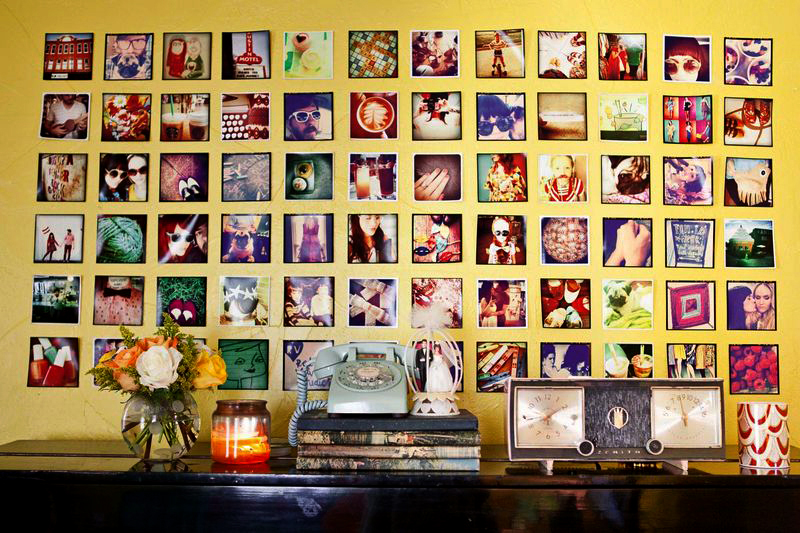 An instagram pic gallery wall instantly personalizes your space. Source: A Beautiful Mess.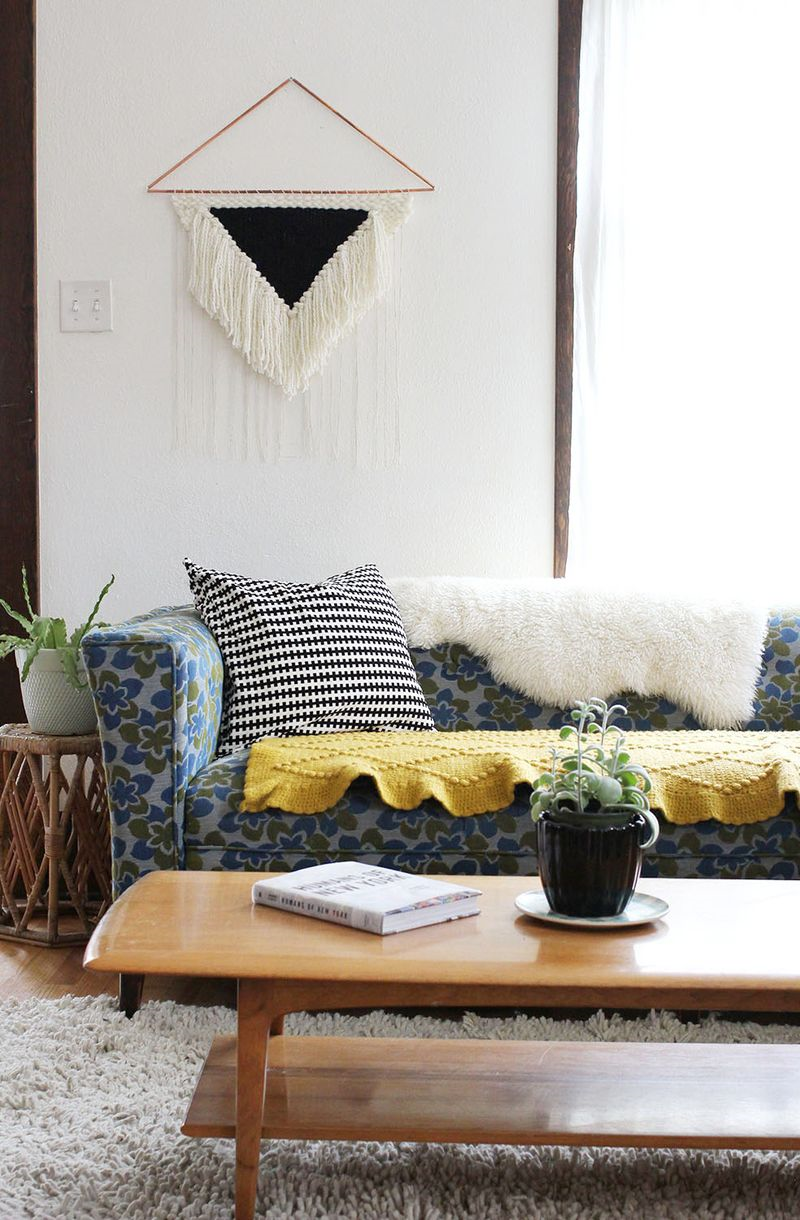 A yarn wall hanging provides added 'softness' to any space it is in. Source: A Beautiful Mess
#9 An Area Rug:
                                                                       Source: Young House Love
Whether you have a carpeted or wood floor, an area rug can add some colour (if needed), but also texture and warmth. And there is nothing better than feeling a soft rug under your feet. But besides that, an area rug also serves to unify your living room by corralling all your sitting furniture, thereby creating a 'conversation zone.'
                                                                                     Source: AKA Design
The great thing about rugs is that you can find various styles to suit your taste, including a shag rug, low pile, high pile or anything in between, a rug is a great choice when you are looking to create visual impact and comfort.
#10  Light up your life!:
A variety of different lighting options are one of the best ways – and likely one of the least considered ways – of adding warmth to your living room. When you have at least three or more options (ceiling light, table and floor lamps, for example) you can increase or minimize light, depending on the time of day – early or late evening – and the mood you wish to create. And while dimmers are a great option – I highly recommend them – the varying materials and soft textures that lamp shades and other lights bring to a room, also add to an overall sense of cozy-ness.
Source: Dans le Lakehouse
In our Great Room, we have 3 main sources of light (4 if you count the window): potlights, ceiling lights, and floor lamps. These floor lamps are great for creating soft lighting at night.
Final thoughts:
Mixing softer elements, such as pillows and throws, with your existing hard ones (coffee table, side table, TV and stand) is the key to creating balance, visual interest and, ultimately, cozy-ness in your living room.   Hope these tips inspire you to create your own warm and inviting living room space for friends and family to enjoy 🙂