I love decorating with natural elements.  In my mother's day, flower arrangements and seashells were the go-to decor pieces for bringing the outdoors in.  But nowadays nature-inspired decor is far more diverse.  From pillows to pottery, coat hooks and wallpaper, the nature motif is seen just about everywhere.  While styles and tastes may change, using nature to decorate the home is here to stay – and I couldn't be happier. So today I am sharing my 10 favourite ways to bring the outdoors in (besides flowers and seashells ;) ).  Most are low cost and all add coziness in the home and perhaps a little whimsy, too.
1.  ADD PINECONES, CRAFTED OR BARE
As a lifelong fan of pinecone decor, I like to mix it up to keep things interesting. One way of adding a bit of 'craft' to your pinecones (and a great project for the kiddos) is to wrap them in yarn for added texture and colour.
If yarn is not your 'thing' then brighten up your pinecones by painting the tips to add some pops of colour.
Source:  Whimzeecal
If you are a 'purist' then you may prefer your pinecones au naturale – thank you very much! There are plenty of great applications, including adding a large bundle to a basket…
or popping them in glassware as part of a pretty table setting.
Source:  Suburban Faux Pas
//For more on using pinecones in your home check out SIMPLE, MODERN PINECONE DECOR IDEAS//
2.  Use Vases To Display Non-Floral Elements
When adding interest in your home, try the unexpected. One of my favourite ways to do this is by using unconventional elements in vases, like branches with leaves…

…or pussy willows (on this buffet) and small twigs (on this tablescape).
3.  GNARLY ADDITION
I just love how gnarled roots and branches look in a space – the gnarlier the better!  For added impact, place them on clean, plain surfaces where they can take center stage. For example, try a simple addition to a dresser, like this grapewood root…
or in a glass vase filled with sand in this reading nook…
or on a high surface – like this bookcase decorated for fall – for added impact.
4.  ADD NATURAL ELEMENTS TO STACKS OR ROWS OF BOOKS
Another easy way to integrate outdoor elements in your home is by placing them on a stack of books, like the bright white sea coral below. Next to this DIY Whitewash Abstract Art, the sea coral complements the vignette by adding texture and visual appeal.
You can also try incorporating nature-inspired decor in bookcases.  It's a great way to break up the monotony of seeing rows of books, while also allowing you to feature your favourite outdoor-inspired pieces like this rustic-looking bird…
or this tree trunk inspired vase…
The trick is to integrate outdoor bits seamlessly into your existing layout.  Rocks – real or faux – are possibly the easiest and 'earthiest' things you can use to accomplish this.  Take a look at this coffee table vignette that happens to include other nature-inspired decor as well – can you spot the rock?
5.  POTTED PLANTS
Next to flower arrangements, houseplants are possibly the first thing you think of when you want to bring the outdoors in.  And why not?  They add loads of coziness to a home.  It also does not take much to achieve this. Just take a look at these rooms to see what I mean.
Source:  Rain On A Tin Roof
Source:  Love On Sunday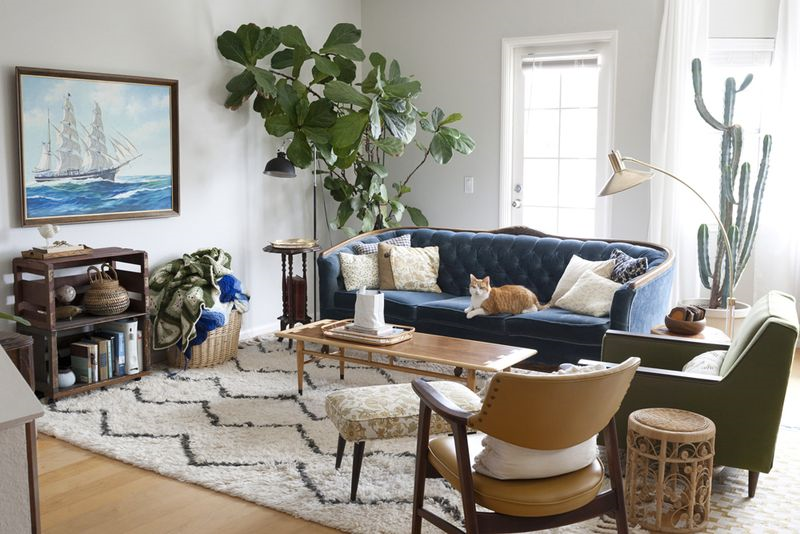 Source:  A Beautiful Mess
But if you are known as a plant-killer 😉 then why not try your hand at these easy-to-care-for mini cacti plants.
Caring for cacti is much easier than other houseplants.  After reading about just how easy cactus care is here, then pop over here and learn how to create the mini marbled painted pots pictured above.
6.  ANTLER ANTICS
With any decorating scheme, bringing in quirky elements adds a relaxed and interesting vibe to your home and antlers surely accomplish this. While some trends come and go, antler decor seems to be here to stay. I happen to have a couple of real shed antlers that my husband stumbled upon while stomping around in the woods (or at least I imagine him stomping around like a big kid 😉 ). I am always sneaking them out of the garage and into the home to create fun vignettes, like this fall foyer display.
I also love the unexpected interest that antlers bring to a traditional vignette. Using nature-inspired decor to create contrast between raw elements and prettier objects provides additional visual appeal as this coffee table vignette shows.
If using antlers to decorate your home seems a bit too rustic for your taste, then try using small-sized versions like these Christmas ornaments to add style statements in a tray…

…or as part of a loose display on a table.
7.  FILL A BOOT TRAY WITH ROCKS
For a more utilitarian project, try giving an old plastic boot tray a fresh face by filling it with rocks to hide those nasty drippings that form at the bottom.
Best of all, maintenance is easy. Simply empty the tray and clean off the bottom with soapy water and a rag. Do this at least once or twice a year.
8.  PUT A WREATH ON IT
Wreaths need not be relegated to the outdoors.  In fact, their versatility in both style and form make them great additions to interior spaces, including foyers, bedrooms, living rooms, dining rooms, or as part of a gallery wall display. Here are some indoor wreath displays that I've used just this past  year.
Make your own custom wreaths to cater to your taste and style. Check out these DIY wreath tutorials for some inspiration:
Source:  A Pretty Fix
Source:  A Pretty Fix
Source:  A Pretty Fix
9.  SOFT FURNISHINGS
Soft furnishings like bedspreads or pillows are another lovely way to inject some outdoor coziness inside the home. There are plenty of great options at your local home goods stores. Best of all, they integrate well with any style or taste.
10.  WILD AT 'ART'
And, finally, don't forget that art depicting the outdoors is another great way of adding warmth and interest.  Antique stores are the best places to find affordable, quirky pieces. Try to vary how you display your artwork by hanging them the traditional way or by leaning them against walls and mirrors as part of a vignette.
FINAL THOUGHTS
Bringing the outdoors in the home can be done in so many subtle, yet creative ways these days.  Crafted or bought, nature-inspired decor is a fun way to inject a little whimsy while simultaneously creating a soft and cozy space to kick your feet up in and enjoy. I hope these 10 creative ways to bring the outdoors in inspires you to further explore how you, too, can add a relaxed, natural vibe into your home.
Happy decorating 🙂
For more creative crafts, DIY's, and decor inspirations from around the web, check out The Handmade Hangout, Peace/Love Link Up, Project Inspired, Family Joy Blog Link-Up, Craft Schooling Sunday, Show and Tell, Mad Skills, Merry Monday, Meet Up Monday, The DIY Link Party, That DIY Party, Tutorials & Tips, Welcome Home Wednesdays, Creative Spark Link Party, The Wednesday Roundup, Mad Skills, Creative Corner Link Up, Snickerdoodle Sunday, Happiness is Homemade, Bloggers Spotlight Link Party, Dare to Share, Share It One More Time, Saturday Sparks, Saturday Sharefest, Sweet Inspiration, Flaunt It Friday, BFF Open House Link Party, Pretty Pintastic Party, Funtastic Friday, The Creative Exchange, No Rules Weekend Blog Party, Creativity Unleashed and The DIY Collective.